Health & Safety Support
We understand the importance of maintaining a safe and healthy environment. We also appreciate how time consuming it can be to comply with H&S legislation.
Which is why we offer a range of FREE services and tools, that make compliance as painless as possible!
COSHH Training
Ensure your staff are informed and trained with our COSHH Awareness course; one of many CPD accredited courses available FREE on our Jangro LMS online training platform.

Award winning Wallchart Creator

Create bespoke wall charts in seconds, to illustrate which chemical to use on each surface and the appropriate protection to wear when doing so.
/


COSHH Packs Made Easy
Safety Data Sheets (SDS) help ensure that those who use chemicals in the workplace do so safely without risk of harm to users or the environment.
Download your up to date COSHH Pack, containing a Safety Data Sheet for every item you have bought from Bowak, in 30 seconds!
Going forwards, you will receive an SDS by email to your nominated H&S contact, prior to first delivery of any chemical to a site.
Risk Assessment Support
It is each employer's responsibility to ensure risk assessments reflect their operation and environment.
COSHH Risk Assessments for each Jangro chemical save you time by guiding you to risk factors which you may wish to consider when conducting these assessments.

Download from the corresponding products on this website, or access by scanning the QR code on each chemical label.
Ask our experts
For further peace of mind, our IOSH (Institute of Occupational Safety and Health) qualified experts are on hand to answer your COSHH compliance queries.

Colour coded chemicals...

Our Jangro chemicals adopt the BICS (British Institute of Cleaning Science) colour coding scheme, making it quicker and easier to identify the chemical designed for the task.
...which do what it says on the label!
On our Jangro chemicals, we have shunned flashy names in favour of a simple description of each product's purpose. What you see is what you get!
Pictorial product user guides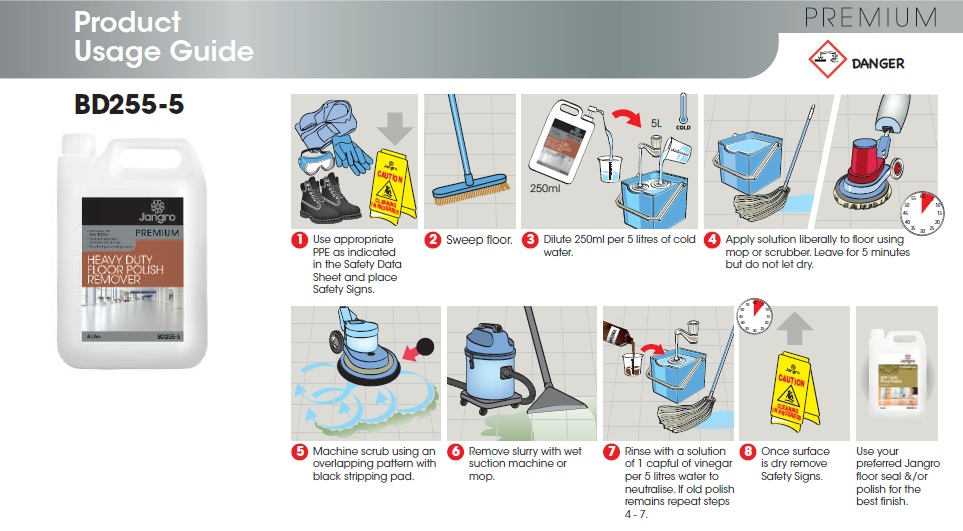 Step-by-step instructions with illustrations are simple to follow, even if English isn't your first language.
Download from corresponding products on this website, or access by scanning the QR code on each chemical label.
Over the past 50 years, we have been fine tuning our services to better support our customers and this is just one of the many ways that we do.
We are here to make the distribution and delivery of catering, cleaning and janitorial products as seamless and stress-free as possible, with a focus on accuracy and quality that's second to none.
Talk to our friendly team to find out more.